Introducing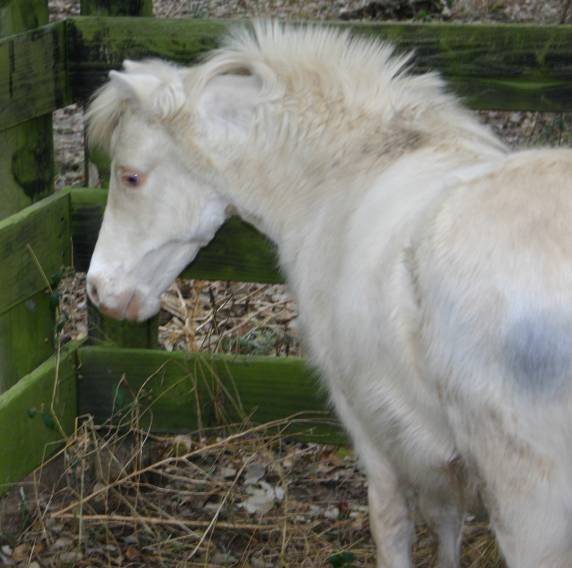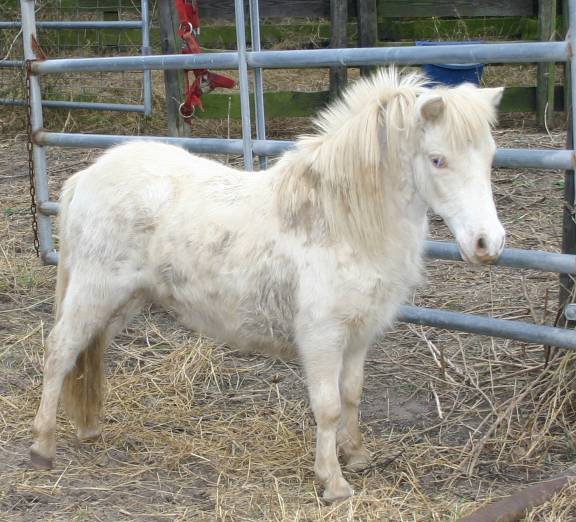 Mariah Ranch would like to welcome Little Kings I Be Dreaming as our new junior herdsire! Needless to say we are looking forward to seeing what he can produce! This colt has four crosses to Gold Melody Boy in addition to being a grandson of Boones Little Buckeroo and Little Kings Supreme Dream! He will be standing at stud via Private Treaty-inquire if interested.
Foaled July, 2006, perlino
AMHA
Sire: Little Kings LKB Buckeroo Dream, who was herdsire for Boone's miniatures
Buckskin pinto
Dam: Little Kings Sweet Dreams, who is also the dam to Little Kings BT Chablis(one of the three entries who earned the World Champian Get of sire- for BTU, and who of her own right won Eastern Regional champion senior mare 32-34 and Regional Grand Champion senior mare!
Palomino mare
****1***2***3***4***5***6***7***8***9****************************************
| | | | UNKNOWN - UNREG.
| | | POPLAR LANES SAMSON - I 00334
| | | |[00/00/1970 : S : SSR : - : DC : 31.000]
| | | | UNKNOWN - UNREG.
| | BOONES LITTLE BUCKEROO - A 03047
| | |[05/22/1978 : S : SBS : BD : - : 30.500]
| | | | | LIGHTNING BUG - UNREG.
| | | | GOLD MELODY BOY - I 01031B
| | | | |[06/10/1962 : S : SPA : - : DC : 33.000]
| | | | | GINNS MELODY - UNREG.
| | | JOHNSTONS VANILLA - R 01827P
| | | |[06/23/1975 : M : SPA : - : - : 34.000]
| | | | | MERRYS GOLDEN MOHAWK - UNREG.
| | | | VANILLA 3RD - I 00093B
| | | | |[04/20/1971 : M : SPA : - : - : 33.500]
| | | | | UNKNOWN - UNREG.
| LITTLE KINGS LKB BUCKEROO DREAM - A 118255
| |[04/23/2000 : S : PBS : DN : - : 31.500]
| | | | | | UNKNOWN - UNREG.
| | | | | STOUTS MISTER PRIDE - I 00184
| | | | | |[00/00/1963 : S : SSR : - : DC : 30.500]
| | | | | | UNKNOWN - UNREG.
| | | | STOUTS CHARGER - IT00264
| | | | |[05/04/1978 : S : SSR : - : - : 27.500]
| | | | | | STOUTS SCOTCHEE - UNREG.
| | | | | STOUTS ANNIE - I 01457
| | | | | |[07/14/1970 : M : SCS : - : - : 32.000]
| | | | | | STOUTS AMY - UNREG.
| | | STOUTS THUNDER - A 31815
| | | |[06/07/1989 : S : SPA : - : DC : 00.000]
| | | | | UNKNOWN - UNREG.
| | | | STOUTS INDIAN SQUAW - I 00415
| | | | |[04/00/1977 : M : ABK : - : - : 28.500]
| | | | | UNKNOWN - UNREG.
| | STOUTS SUPER SWEET - A 64389
| | |[06/03/1994 : M : SBA : - : - : 31.750]
| | | | | MR MONTANA - UNREG.
| | | | MONTANAS MISTY MOON - I 00718
| | | | |[04/19/1975 : S : SPA : DN : - : 29.000]
| | | | | | UNKNOWN - UNREG.
| | | | | MONTANAS GOLDEN GIRL - R 01353P
| | | | | |[00/00/1970 : M : SPA : - : - : 33.000]
| | | | | | UNKNOWN - UNREG.
| | | STOUTS SUGAR BABE - A 06818
| | | |[04/14/1983 : M : RNR : - : - : 32.000]
| | | | | | UNKNOWN - UNREG.
| | | | | STOUTS MISTER PRIDE - I 00184
| | | | | |[00/00/1963 : S : SSR : - : DC : 30.500]
| | | | | | UNKNOWN - UNREG.
| | | | STOUTS SUGAR - I 00632
| | | | |[05/23/1974 : M : RNR : - : - : 32.000]
| | | | | STOUTS LIMPY - UNREG.
LITTLE KINGS I BE DREAMING - A 176405
|[07/15/2006 : S : SCR : PD : - : 00.000]
| | | | | | UNKNOWN - UNREG.
| | | | | KOMOKOS KING TUT - R 00242P
| | | | | |[00/00/1968 : G : SBA : BT : DC : 30.000]
| | | | | | UNKNOWN - UNREG.
| | | | KOMOKOS LITTLE HUSSELER - R 02360P
| | | | |[05/01/1974 : S : SDN : BT : - : 26.500]
| | | | | KOMOKOS LADY BUG - UNREG.
| | | KOMOKOS LITTLE KING SUPREME - R 02914T
| | | |[06/04/1978 : S : SBA : BT : - : 27.000]
| | | | | | UNKNOWN - UNREG.
| | | | | KOMOKOS MOUNTAIN BOY - R 00243P
| | | | | |[00/00/1966 : S : SSR : - : - : 30.500]
| | | | | | UNKNOWN - UNREG.
| | | | KOMOKOS TEENIE JEANIE - R 01534P
| | | | |[09/11/1974 : M : SBA : - : - : 28.500]
| | | | | | UNKNOWN - UNREG.
| | | | | KOMOKOS SALLY - A 04101
| | | | | |[00/00/1967 : M : DGR : - : DC : 31.000]
| | | | | | UNKNOWN - UNREG.
| | LITTLE KINGS SUPREME DREAM - A 54275
| | |[04/04/1993 : S : SPA : DN : - : 29.750]
| | | | | | LIGHTNING BUG - UNREG.
| | | | | GOLD MELODY BOY - I 01031B
| | | | | |[06/10/1962 : S : SPA : - : DC : 33.000]
| | | | | | GINNS MELODY - UNREG.
| | | | JOHNSTONS GOLD BOY - R 03515T
| | | | |[04/10/1980 : S : SPA : BD : - : 28.500]
| | | | | STARLIGHT III - UNREG.
| | | WITTMAACKS FRECKLES - A 13675
| | | |[04/18/1986 : M : SPA : - : - : 32.000]
| | | | | | | LIGHTNING BUG - UNREG.
| | | | | | GOLD MELODY BOY - I 01031B
| | | | | | |[06/10/1962 : S : SPA : - : DC : 33.000]
| | | | | | | GINNS MELODY - UNREG.
| | | | | ROAN RANGER - A 21722
| | | | | |[04/05/1974 : S : RNR : DN : DC : 30.000]
| | | | | | JOHNSTONS GOLDEN GIRL - UNREG.
| | | | STARLIGHTS LITTLE DIPPER - R 03816T
| | | | |[04/09/1981 : M : SCS : - : - : 29.750]
| | | | | | | LIGHTNING BUG - UNREG.
| | | | | | GOLD MELODY BOY - I 01031B
| | | | | | |[06/10/1962 : S : SPA : - : DC : 33.000]
| | | | | | | GINNS MELODY - UNREG.
| | | | | JOHNSTONS STARLIGHT - R 01480P
| | | | | |[03/25/1974 : M : SPA : BT : - : 30.500]
| | | | | | STARLIGHT II - UNREG.
| LITTLE KINGS SWEET DREAMS - A 110037
| |[03/13/1999 : M : SPA : DN : - : 29.500]
| | | | | | UNKNOWN - UNREG.
| | | | | SHADY ACRES LITTLE JOE - R 00031P
| | | | | |[00/00/1970 : S : SCS : - : - : 28.500]
| | | | | | UNKNOWN - UNREG.
| | | | SHADY ACRES JONIKO - R 00531P
| | | | |[05/25/1973 : S : RRN : - : - : 28.500]
| | | | | | UNKNOWN - UNREG.
| | | | | SHADY ACRES LITTLE STAR - I 03049B
| | | | | |[05/02/1970 : M : SCS : - : DC : 33.000]
| | | | | | UNKNOWN - UNREG.
| | | SHADY ACRES LITTLE JO JO - I 01931
| | | |[06/25/1979 : S : SCS : - : - : 29.000]
| | | | | UNKNOWN - UNREG.
| | | | SHADY ACRES TRINKET - R 00266P
| | | | |[00/00/1970 : M : SCS : - : DC : 30.000]
| | | | | UNKNOWN - UNREG.
| | STILL R PRETTY VISION - A 25102
| | |[06/05/1988 : M : SSR : - : - : 26.500]
| | | | | | UNKNOWN - UNREG.
| | | | | LIL PONDEROSA LITTLE CHARLIE - I 00504
| | | | | |[05/01/1973 : S : SBA : - : - : 32.000]
| | | | | | UNKNOWN - UNREG.
| | | | LIL PONDEROSA NICK NAC - I 01590
| | | | |[04/14/1978 : S : SCS : BT : - : 31.500]
| | | | | | UNKNOWN - UNREG.
| | | | | LIL PONDEROSA TOPSY - I 00026B
| | | | | |[04/06/1974 : M : DCS : - : - : 34.000]
| | | | | | UNKNOWN - UNREG.
| | | STILL R MIMI - IT03168
| | | |[03/25/1982 : M : SGR : DN : - : 29.000]
| | | | | | UNKNOWN - UNREG.
| | | | | LIL PONDEROSA LITTLE CHARLIE - I 00504
| | | | | |[05/01/1973 : S : SBA : - : - : 32.000]
| | | | | | UNKNOWN - UNREG.
| | | | STILL R TAFFY - IT00501
| | | | |[05/20/1979 : M : SPA : - : - : 33.000]
| | | | | | | UNKNOWN - UNREG.
| | | | | | LIL PONDEROSA KING - I 01238
| | | | | | |[04/15/1964 : S : SBK : - : - : 30.000]
| | | | | | | UNKNOWN - UNREG.
| | | | | LIL PONDEROSA MISTY II - I 00162
| | | | | |[04/10/1973 : M : DGR : - : DC : 33.000]
| | | | | | LIL PONDEROSA QUEEN - UNREG.
****1***2***3***4***5***6***7***8***9****************************************
Total AMHA Registered Horses: 48
Highest Generation Level (Registered Horses): 6
Key: [Foal Date : Sex : Color : Blood Type : Status : Height]

Stallions
Mares
Foals
Sales
Links